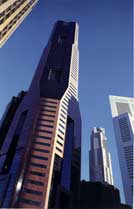 The 1st thing that strikes you about the Tower Club is its awesome view.
Situated on the 62nd to 64th penthouse floors of Republic Plaza in the heart of the central business district, the club offers a panoramic view of Singapore.
It has three restaurants, a bar and a wellness centre with gym facilities.
Best selling points' Tower Club is an exclusive private business club where their members wine, dine networking, entertain and even do work out at the gym.
Take a break after a busy day and step into a tranquil sanctuary devoted to your care and fitness. At the Fitness Centre, optimum health is more than just freedom from disease. It requires a sound body and mind to withstand the stress of everyday living so that you can live life to the fullest. Our team of personable, highly trained professionals will ensure that you experience total rejuvenation with our specially designed fitness
An exclusive club encompasses the best of both worlds; warm and welcoming, affording the same spirit of genuine hospitality as a Member's home - while being exceedingly well operated and sophisticated, reflecting the style and efficiency of a Member s business.
The essence of a private club is its Members and the pride they have in their club. To assure the compatibility and caliber of the Members, a truly private club is founded and governed by the policy of "membership by invitation". Members enjoy the privilege of selecting their fellow Members.
A private club offers a congenial and secure setting in which people of like minds and tastes can meet. It is conducive to the highest order of business and social entertaining, as well as the most demanding of working meetings and conferences.
Often a club of prestige becomes the preferred location for the business and professional leadership of a city. These Members of uniformly high levels of achievement desire to meet in gracious surroundings offering the finest in services and ambiance with truly spectacular views that can be best appreciated at the top.

Only a private club can instill the confidence and a sense of belonging a Member seeks.
FITNESS APPRAISALS
Before beginning your fitness regimen, our instructors will provide you with a thorough fitness appraisal to gather information on your present physical condition. This complimentary one-hour test - which allows our instructors to design a workout programme suited to your needs, time constraints and goals - includes the following assessments:
- Health & Medical Blood Pressure
- Accurate Height & Weight
- Body Mass Index (BMI)
- Percentage of Body Fat
- Aerobic Capacity
- Lifestyle Inventory
- Resting Heart Rate
- Body Circumferences
- Muscular Endurance
- Muscular Strength
- Flexibility
PERSONAL TRAINING
Personal training packages are available if you require further individual direction from one of our instructors. Our staff will guide you through each exercise session, offering fitness and nutrition tips plus great motivation and support. A personal training is priced at $550 (subject to 7% gst) for 10 one-hour sessions.