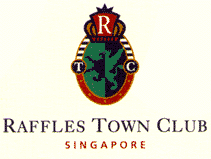 1 P l y m o u t h A v e S i n g a p o r e 2 9 7 7 5 3

The Raffles Town Club will be a veritable architectural showpiece, a modern classic in every sense. With a built up area of nearly 4000,000sq ft and a prime location just minutes from the Orchard Road in the heart of Singapore, membership at the Raffles Town Club will assuredly be one of the most sought after privileges in the nation.

Surround by lush landscape and spacious arbors, the Raffles Town Club simultaneously captures the clean visage of progressive design and the grandeur of a resplendent era.

The Raffles Town Club brings back the tradition of exquisite living. This remarkable urban retreat will carter to all the perquisites of an elegant lifestyle. Incorporating facilities that satisfy the highest order of social and business entertainment, Raffles Town Club will also address the concept of personal leisure and rewarding family life with inspiring foresight.
The Raffles Town Club. A gracious balance of life, family and work.

Basement 1, 2 and 3

Underground Parking ( OVER 500 LOTS )

First Floor
Grand Banquet

hall

Wellness Center

10 lane bowling alley

Golf simulators

VR /Activity Center

Theaterette

Second floor

Lobby Lounge

Coffee house

Japanese Restaurant

Poolside cafe

25M resort pool

Fun pool with water slides

Gymnasium

Aerobics

Studio

Library

Computer Room

Crèche

Business center

Conference / Seminars rooms

Third Floor

Fine dinning rooms

Bar & Billiard

Wine & Cigar Bar

Jazz Bar

Executive Suites

Executive Rooms

Entertainment Suites

Card

rooms

Crèches

Private Spas Rooms

Fourth floor

Chinese Restaurant

Presidential suites with private spas

and adjoining roof Gardens

Executive suites

Executive rooms

Crèches

Roof Deck Tennis Court

Roof Gardens

Proprietary Club.
Number of members
14,000
Land Lease:
3 years
Subscription Fee:
Single: S$86.40/-, supplementary S$43.20/-
Transfer fee & GST :
S$7,344.00
© copyright 2023 Tee Up Marketing Enterprises, Singapore Co. Reg. No. 47786000A, All Rights Reserved